OzKnit Boutique
OzKnit Boutique is the online shopping hub for Queensland's leading knitting manufacturer - OzKnit. We are an Australian owned business who have been specialising in manufacturing quality knitwear for over 50 years.
Oz Knit Baby blankets are designed to be the perfect size for cots, prams and swaddle wraps. Keeping bub feeling safe and snug.
In 2020 Oz Knit Cosy was launch, blankets that were created with a little bit of extra length designed to keep you warm and comfortable on cold winter nights.
AUSTRALIAN MADE - 100% COTTON BLANKETS
OZ KNIT COZY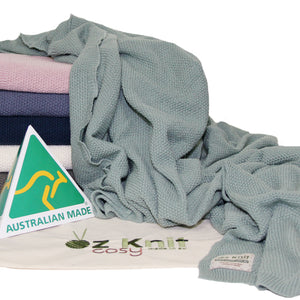 MOSS STITCH - OZ KNIT COSY
100% Cotton Blankets
SHOP MOSS STITCH COZY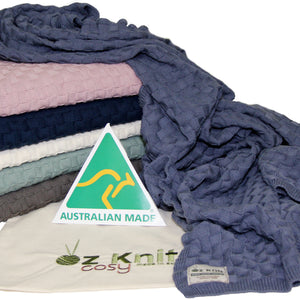 BASKET WEAVE - OZ KNIT COSY
100% Cotton Blankets
SHOP BASKET WEAVE COZY
Brisbane Made Quality
What beautiful soft blankets! I have both the small and the large baby blankets. They are light and breathable- one of the blankets keeps our bub warm in the cot whilst the other travels with us everywhere in the pram. Made in Brisbane- It's usually so hard to find good quality things made locally.

Amanda Deans